Our Approach

As independent financial representatives, Infinity Financial Concepts wants to help you ACHIEVE the dreams you have for your retirement years.
To do this we follow a six step process with all of our clients. Perfected over the past 20+ years, we strongly believe that this process provides the best path for you to follow in order to achieve your retirement goals and dreams.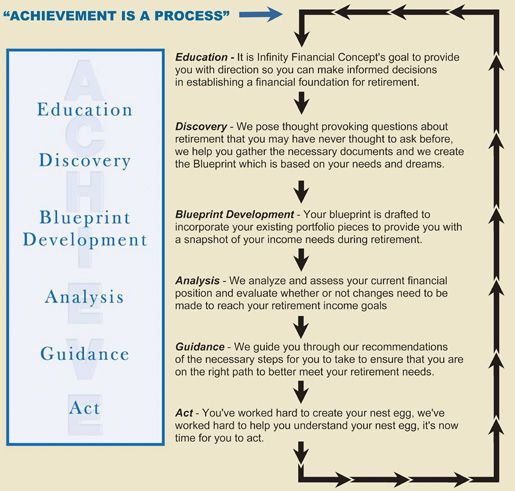 "It's Hard To Plan Effectively When Confused"
The following questions are the most frequently asked questions from our clients:
Should I stop putting money into my 401K during these tough economic times?
How long will I have to work? Will I ever be able to retire?
How much money will I need each month in retirement?
Will I run out of money in my retirement?
What roles do my retirement benefits play in planning my retirement?
Is a Roth IRA conversion a smart move for me?
If you have been wondering about these or any other retirement related questions, please use the "contact us" link above to send us an email and your questions. You can also download our worksheet of important questions for you to answer when preparing for your retirement, click here for the worksheet. For a list of the documents needed to help begin your blueprint development, click here.