Human Resource Educational Workshops

For close to two decades, Jim Hinchsliff and Joe Schoenhardt of Infinity Financial Concepts have presented financial and pre-retirement workshops on behalf of Human Resource Departments in the Chicagoland area. They are committed to educating people on the many issues of retirement planning and what measures are recommended in making a smooth transition into retirement.
Our educational workshops are interactive and hands-on, with the goal of engaging people in the thought process of what steps they still need to complete. Our financial blueprint and checklist give employees a snapshot of their income needs during retirement. The checklist addresses action items which need to be taken care of prior to retirement. A few of the companies we have worked with are:
Loyola University Employee Federal Credit Union
Loyola University
Garrett Popcorn
Associated Equipment Distributors - Corporate Headquarters
ACE Hardware - Corporate
Waste Management
Plumbing Contractors Association of Chicago and Cook County
In addition, we have also hosted offsite workshops for employees of the following companies:
Borg-Warner
Automotive Ameritech
To view a sample video of our workshop, please visit the Loyola University and Loyola University Employee Federal Credit Union webpage.
There is no cost or obligation on behalf of the employer or employees. Our philosophy is strictly to educate and motivate the employee to take action. The employee drives the timing and level of our involvement in this process, if any. Based on our experiences wiht HR departments, our passive approach has worked well for everyone involved. Find out what the advantages are for your company by clicking here.
Joe and Jim at HRMAC Summit 2010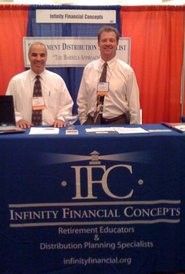 We invite Human Resource professionals to join us for a first hand experience of our educational workshop and our retirement planning process. Workshops are held the 3rd Tuesday of every month from 12:30 p.m. to 1:30 p.m. at our office located at 1127 S. Mannheim Road Suite 205 Westchester, IL 60154. Email Joe at joe@infinityfinancialconcepts.com to reserve your spot.
If you are unable to attend a workshop presentation, or to obtain more information on our workshop presentations and how a relationship with Infinity Financial Concepts can benefit your organization, please contact Joe at 708-410-0400 or by email at joe@infinityfinancialconcepts.com.
It is not known if Joe Schoenhardt, Jim Hinchsliff, Infinity Financial Concepts and the Securities America companies or their services are endorsed by any of the named companies.